Social media sinks its teeth into Suarez's appetite for destruction
Comments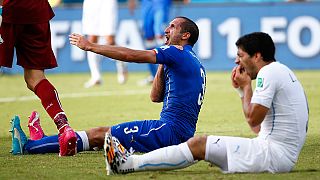 It has become the bite that went around the world. More than two million tweets exploded onto Twitter following the now-infamous clash between Uruguay's Luis Suarez and Italy's Giorgio Chiellini, no angel himself, during Tuesday's World Cup match.
La carne humana es un plato típico uruguayo, como el chivito. Preguntale a Chiellini (Foto: La Gazzetta Dello Sport) pic.twitter.com/PBpiWdWh5M

— MP (@mparadalopez) 24 Juin 2014
Caníbal Suárez JAJA! pic.twitter.com/9RlhGOeCUE

— Großkreutz (@GrosskreutzFCB) 25 Juin 2014
(CAPTURA) Luis Suárez, el caníbal uruguayo, el ídolo de Mike Tyson (by diario ODía de Brasil) pic.twitter.com/ik8Z4aPHjQ

— BocaaaBocaaa (@BocaaaBocaaa) 25 Juin 2014
Much like Zinedine Zidane's headbutt at the 2006 final (also involving an Italian defender), it is a moment of apparent madness that threatens to overshadow the tournament, and it has turned the brilliant striker into an object of ridicule.
Yet it was only too predictable, as it is the third time the volatile player has bitten an opponent while playing.
So predictable in fact that someone in Norway placed a bet on it, and has collected big-time.
What are the odds!? http://t.co/TQhfrYLjq8

— Who Ate All The Pies (@waatpies) 24 Juin 2014
Back home in Uruguay it is all proving a bit hard to swallow.
"Did he do it? It's complicated, that's very complicated, The problem is he'll have to go to the dentist now," joked one man.
"You can see that he bit him, the truth is he went too far. I don't know if he'll be punished, I hope not. Sadly the most logical thing is he will be, but as a Uruguayan, it's terrible," lamented another fan.
Suarez helped his side knock four times winners Italy out of the tournament, and Italian fans in Rome looked on aghast at the loss and roared their outrage at the incident.
Suarez is also all over the international press, but it should be remembered FIFA has yet to decide if anything happened at all, and Suarez, for once, is tight-lipped about it.
Suarez, who denies the claims, does not just face disciplinary proceedings. One of his sponsors, an online poker company, said it was 'seriously reviewing its relationship with the player' after the 27-year-old's latest controversy.
The referee did not discipline the Liverpool striker, but FIFA's rules allows them to retrospectively punish players. However if it had been seen it would almost certainly have led to a red card, and Italy were down to 10 men at the time, so things would have been even for the last 10 minutes. Could the Azzuri have levelled the score and avoided the plane home? We will never know.
FIFA says Suarez and the Uruguayan football association have until Wednesday (June 25) night to "provide their position and any documentary evidence they deem relevant".
Uruguay manager Oscar Tabarez claimed he did not see the controversial incident, but said Suarez was being persecuted.
"It seems there is this animosity toward him and he is being persecuted by past events," a visibly agitated Tabarez said when repeatedly being asked about the alleged bite. "There are people hiding behind the tree waiting for something to happen." Others suggest Suarez is being targeted as Uruguay represent a real threat to tournament favourites Brazil, but without Suarez they will lose much of their cutting edge.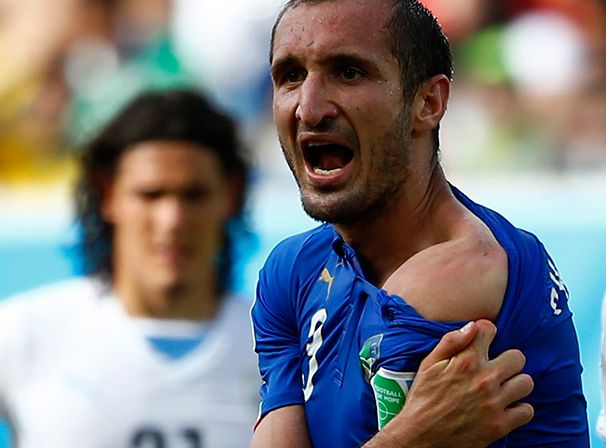 Italy's Giorgio Chiellini shows his shoulder, claiming he was bitten by Uruguay's Luis Suarez. REUTERS/Tony Gentile
But Chiellini, who Italian fans know as an especially provocative and physical defender, told Rai TV: "It was ridiculous not to send Suarez off. It is clear, clear-cut and then there was the obvious dive afterwards because he knew very well that he did something that he shouldn't have done."
Suarez contested the Italian's version of events, however.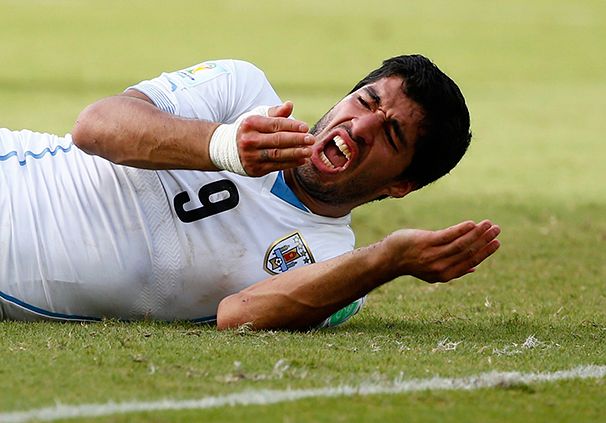 Uruguay's Luis Suarez reacts after clashing with Italy's Giorgio Chiellini. REUTERS/Tony Gentile
He said: "Those are situations that happen on the pitch. We were both just there inside the area. He shoved me with his shoulder, and my eye got left like that also."
Suarez also trails behind him allegations of racism following a clash with Manchester United's Patrice Evra in the English Premier league during the 2012-13 season.
But his reputation in England recovered dramatically after a stunning campaign with Liverpool last season, in which he scored 31 times, despite being banned for the start of the campaign for his second biting offence. He was the Professional Footballers' and Football Writers' Player of the Year.