Watch: Drama as part of plane's wing collapses mid-flight
Comments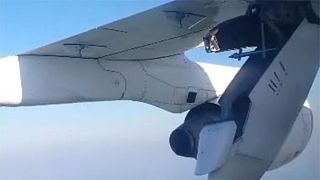 This was the terrifying moment part of plane's wing collapsed in mid-air.
Passengers reported hearing a loud bang before seeing a six-foot section of the wing dangling down.
The CityJet flight, en route from the UK to Florence, was forced to turn back and make an emergency landing at London City Airport.
The plane was carrying around 60 passengers when the drama unfolded this morning (Thursday, May 15).
Among the passengers was the owner of ToTuscany travel agency.
The firm said on its Facebook page: "Drama this morning in the @ToTuscany offices when we received this video from our owner. #CityJet flight from London to Florence turned around when this happened! Its only a cowling so no imminent danger and GREAT customer service from CityJet in the air & at City Airport means he will still be in Florence before lunch."
A statement from CityJet: 'The WX 281 flight had just taken off from London City Airport on its way to Florence when the cover of the operating mechanism on the wing became partially detached.
"The crew followed their standard procedures and, after a discussion with CityJet Maintenance Control, decided to return to London City Airport. Air Traffic Control were notified and the aircraft returned making a normal approach and landing. Passengers were re-directed on another aircraft and departed with a two hour delay."