Syria: Saudi Arabia says rebels need more help in 'catastrophic' civil war
Comments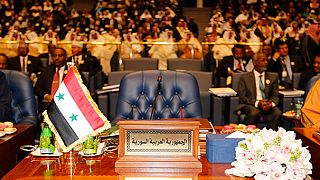 Saudi Arabia says the crisis in Syria has reached 'catastrophic proportions' and has called for a change in the 'balance of forces' on the ground.
Crown Prince Salman, Saudi Arabia's deputy prime minister, speaking at the opening of the annual Arab summit in Kuwait, stressed the need for more support for rebels fighting to overthrow Syrian President Bashar al-Assad.
The annual meeting of the 22-member League of Arab States is expected to agree on more humanitarian action in response to Syria's war, which has entered its fourth year and put a severe strain on neighbouring countries hosting refugees.
Syrian opposition leaders have been lobbying the Arab League to give them Syria's seat on the pan-Arab body, and to push Arab states to approve the delivery of military hardware to them to boost their fight against Assad.
Syria's seat will remain vacant at the summit but the head of the opposition Syrian National Coalition, Ahmed al-Jarba, said it should go to his group.
He said: "Leaving Syria's seat empty sends a message to (President Bashar) al-Assad…'Kill, kill the seat is waiting for you once the battle is settled'," Jarba told the Arab League summit. "Reality requires that the Syrian embassies are also handed over to the National Coalition."
Lakhdar Brahimi, the United Nations peace mediator for Syria, said on Monday it was unlikely that talks in Switzerland between the Syrian government and opposition would resume soon.