Spanish footballers don't play ball after not being paid
Comments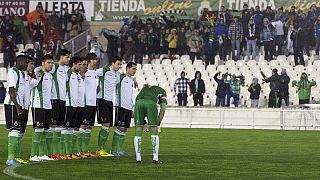 Football players of Spanish club Racing Santander declined to compete against Real Sociedad in the second leg of the quarter-final of the Copa Del Rey (King's Cup) in protest at not having being paid for several months.
Racing's manager as well as all members of the technical staff have also received no money from the club in that time.
Real Racing Club de Santander pic.twitter.com/xJqa1V3HUY

— Aleeee (@Alejandra_de_22) January 31, 2014
Santander showed up for the game at its home ground, El Sardinero and the players warmed up as usual. Then, as soon as the referee had blown his whistle for kick-off, the Santander players gathered in the centre of the pitch and refused to participate in the match.
Sociedad's players passed the ball around in their own half for a short while before one kicked the ball into touch. At that point the referee abandoned the game.
Sociedad had won 3-1 in the first leg of the quarterfinal and will qualify for the next round.
Racing de Santander es sancionado con €3000 y un año sin jugar Copa del Rey solo por pedir sus derechos.¡INJUSTICIA! pic.twitter.com/zeDV1MTN2t

— Tips Fútbol (@TipsFutbol) January 31, 2014
Racing's fans were warned in advance about the players' decision but many braved heavy rain and low temperatures; around 7,000 of them showed up in El Sardinero to stand by the players, applauding as the protest began.
Some had prepared large anti-management banners and had worked on a chant directed at the club's management: "Go away cheats".
Club chairman Angel Lavin did not show up at the match. Directors Leticia Vila, Jorge Madrazo and Lavin's nephew, Jairo Lavin, were jeered as they entered the ground but failed to appear in the directors' box.
Watch the video