Sponsor Zoopla ends West Brom deal after "alleged anti-Semitic" gesture by Anelka
Comments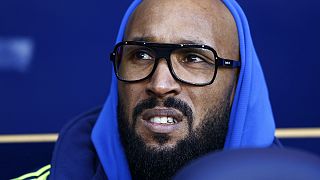 Property website Zoopla is ending its sponsorship of English soccer club West Bromwich Albion following an outcry over an alleged anti-Semitic gesture made by striker Nicolas Anelka during a Premier League game last month.
The company said the deal would not continue beyond the end of the current season in May. The statement followed reports that Zoopla would pull out of the 3 million pound ($4.9 million) deal unless West Brom dropped Frenchman Anelka.
West Brom play Everton on Monday evening in a high-profile televised game, the first since Pepe Mel took over as team manager. Anelka made the "quenelle" gesture after scoring the first of his two goals in a 3-3 draw at West Ham on Dec. 28.
The quenelle, invented by French comedian Dieudonne, has drawn widespread condemnation in Anelka's homeland and from anti-racist and Jewish groups in England who have demanded the player be banned.
"Zoopla has been reviewing its position over the past few weeks in light of the actions of striker, Nicolas Anelka, during the match against West Ham over the Christmas period and has decided to focus its attention on other marketing activities after this season," the company said in a statement. The Football Association is yet to report back on its investigation into the matter and the club said in a statement on Dec. 30 that Anelka remained eligible for selection.
Anelka, who has played in both West Brom's league matches since, promised not to repeat it but did not apologise for his actions.
Zoopla, a company co-owned by Jewish businessman Alex Chesterman, became the club's main sponsor in 2012 and said then that the agreement would run at least until the 2014-15 season.
According to the Daily Mail, Zoopla had demanded that the company name was removed from Anelka's shirt for Monday's Premier League match against Everton. Zoopla is part-owned by the Daily Mail & General Trust , the parent company of the newspaper.
(Reuters)