Huge waves batter Britain's coast as fresh storms hit country
Comments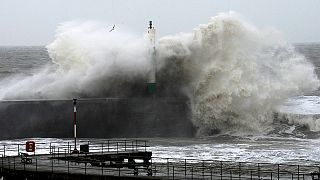 Massive waves are battering the UK coast in the latest round of wild weather to hit the country.
The west has been worst hit with waves of up to 8 metres high being recorded at Land's End in Cornwall.
Two-hundred and fifty people were evacuated from coastal accommodation in Aberystwyth, as high tide and strong winds combined. Pictures posted on Twitter show one of the town's seafront shelter seemingly collapsed, too.
The bad weather has prompted scores of flood warnings, including one in Dorset rated severe, meaning there is "significant risk to life".
The Met Office warned gusts could reach up to 70mph on Britain's west coast and the east coast of Northern Ireland.
Meanwhile Sir David King, the government's expert on climate change, said more needed to be spent on Britain's flood defences.
Britain has been hit by a series of storms in recent months, including St Jude's in October, the strongest in southern England for 40 years.
R.I.P shelter #OnItsWayOut#Aberystwythpic.twitter.com/1ZEDBRERjI

— Leigh-Anne Bullough (@LeighAnneBx) January 6, 2014
Tide is going out but is it getting worse? pic.twitter.com/5pFUHIQH9u

— Zak Howard (@Skoward) January 6, 2014
An enormous wave breaks at Porthcawl. Latest on weather here: http://t.co/tq9DQZiFfipic.twitter.com/BsqdFYaL5B

— Steffan Rhys (@Steffan_Rhys) January 6, 2014