Germany: Police probe blackmail attempt on Merkel's challenger
Comments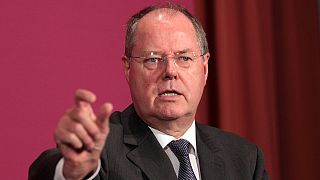 German police said they were investigating an apparent attempt to blackmail Peer Steinbrueck, the Social Democrats' (SPD) challenger to Angela Merkel in this month's federal election, over a cleaner employed by his wife 14 years ago.
Police gave no further details on Saturday, but newspaper Bild quoted Peer's wife Gertrud as saying she had been told in an anonymous letter to persuade Peer to withdraw his candidacy by Sept. 10 or face revelations about their cleaner, whom the blackmailer alleged was employed illegally.
A spokesman for Bonn police said they and local prosecutors were investigating the letter and the blackmail attempt. "What I and my family have lived through in this campaign goes far beyond what is acceptable. I never would have expected blackmail would also be attempted," Peer Steinbrueck told German reporters on Saturday.
"There is only one way to deal with these things, go out in the open and turn to the police. It will play no part in my election fight," he added.
Gertrud Steinbrueck said she had used a Filipino cleaner in Bonn who had social security insurance through her husband. When he later lost his job and residency in Germany, Steinbrueck offered the cleaner a contract, which she declined. Steinbrueck told her she could not employ her illegally.
Germans who employ a cleaner are supposed to offer them a proper contract with social security.
The SPD trail Merkel's Christian Democrats (CDU) by about 15 percent in opinion polls ahead of the Sept. 22 election.
REUTERS