Amazon hires goats for office landscaping
Comments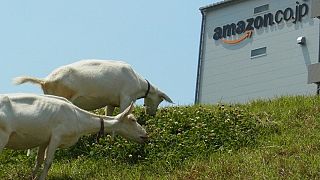 Internet retailer Amazon Japan reported a problem this week at their Gifu Prefecture distribution centre: the grass was too long. But rather than hire a gardener to cut the weeds and mow the lawn, the company chose a more eco-friendly solution: goats.
The animals will be taken from a local farm to the company's distribution centre once a week until the end of October. They will nibble away at around 3,750 square meters of grass, according to the international press.
The area has been surrounded with a 1.6-metre fence to keep the animals away from the building.
The experimental ecological weeding activity is part of what Amazon Japan says is its wider environmental program. The company expressed its hope that through goat weed it will reduce carbon dioxide emissions caused by lawnmowers. Amazon will also avoid having to pay a human employee to operate the lawnmower.
Like their human colleagues, it's reported the Amazon lawn goats will even get their own identity cards.
Photo:twitter