Gay couple sues French mayor over refusal to wed them
Comments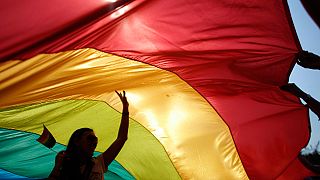 Two men are suing the mayor of a French village for refusing to marry them, in the first reported legal action over same-sex marriage since it was legalised in May amid strong, sometimes violent opposition.
Guy Martineau-Espel and Jean-Michel Martin, both in their 50s, filed a legal complaint against the mayor for refusing to marry them at the town hall of Arcangues, a village in southwestern France where the couple has lived for a decade.
"We will fight this battle to the finish," Martineau-Espel told Reuters. France adopted legislation in May that allows gay and lesbian couples to marry and adopt children, following in the footsteps of 13 other countries.
But the move divided opinion in France and came at a political price for the already unpopular government of President Francois Hollande. Opponents of the law, led by Catholics and conservatives, staged mass street protests, some of which ended in violence, and the debate was also blamed for a spate of homophobic attacks in the mainly Catholic country.
Weddings in France are conducted by mayors or their deputies at town halls, of which there are about 36,000. The couple in Arcangues applied to marry in May but the right-wing mayor, Jean-Michel Colo, turned them down.
Colo was summoned earlier this week by a government official and told to apply the law. He asked for more time to consider his options, prompting the couple to take action.
A refusal to comply with the gay marriage law could mean Colo faced up to five years in jail and a fine of up to 75,000 euros ($98,000).
"Even if in the end we manage to get married, we will stay the course with our legal complaint," said Martineau-Espel.
(Reuters)