Sharing the pain, learning the lesson
Comments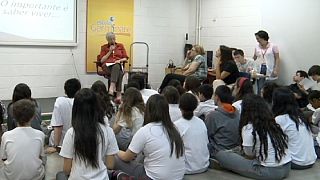 Is there ever a silver lining when tragedy strikes? Sometimes there are useful lessons to be learned from listening to people's experiences. We look at what happens when people talk about their first hand experiences in the classroom.
At 82, Nannette Konig keeps the past alive by visiting schools and telling children about her friend Anne Frank and her own experiences as a survivor of the holocaust.
http://www.escolagerminare.org.br/jbs-institute/index.php
http://www.perfil.com/ediciones/2011/6/edicion_580/contenidos/noticia_0008.html
The renowned photojournalist Reza Deghati tours schools showing youngsters how he has captured human suffering on assignment to wars and conflicts around the world. We catch up with him on a trip to a school in Qatar.
And we go to Italy, where the sister of a murdered anti-mafia investigator is keeping his fight against organised crime alive two decades after he was blown up by a bomb. Among Rita Borsellino's arsenal of weapons are the minds and opinions of school children.