The road ahead as European car sales stall
Comments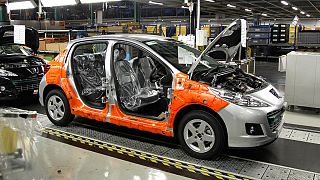 PSA Peugeot Citroën may have been the first in Europe to announce lay offs and a plant closure, but industry watchers say it will not be the last.
Sales in the region continue to fall though the pace of the decline in June was the slowest in eight months and indeed the biggest market Germany posted a small gain, as did Britain.
New car registrations in the 27 countries of the European Union were down 2.8 percent.
That improvement limits the drop in deliveries in the first six months of the year to 6.8 percent from last year's already depressed figures.
As the latest sales numbers were released, the Wall Street Journal reported that General Motors' Opel/Vauxhall division expects to report substantial losses in Europe for the rest of the year.
Peugeot Citroën has defended its cutbacks by saying it cannot carry overcapacity when its sales plunged 8.6 percent in June, extending its year-to-date decline to almost 14 percent.
Ivan Hodac, Secretary General of the European Automobile Manufacturer's Association, ACEA, spoke to euronews about what he thinks the future holds for the industry.
Click on the video link above to watch the interview