Business education: softly softly
Comments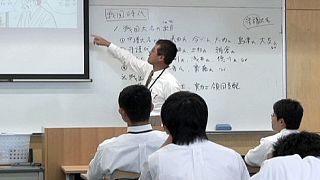 Success in business requires much more than a university degree. In this global era interpersonal skills, creativity and being able to think on your feet are more important than ever. At New York University's Stern Business School they are teaching these so-called 'soft skills' through theatre arts, mime, clowning and improvisation.
NYU-Stern is an elite American business school and was one of the first to include soft skills in its MBA course.
As one MBA student at NYU-Stern said: "I think to be very successful, one great skill you have to have is to understand others. And try to read all the non verbal cues that people give. So I think this class will allow me to understand that a lot better and so that I can relate better to other people and be a good leader in the workplace."
As economies around the world stumble towards economic recovery, the job market remains fiercely competitive. Opinion differs on whether or not it is possible to teach soft skills, but everyone agrees they are vital in the workplace.
Learning from someone else's experience is one of the most effective ways to ensure a successful career in business. Jana Nurmukhanova is an advisor at NGO Technoserve, in Ghana. A national project there to mentor new start-ups is called BBB: Believe, Begin, Become.
Every week Jana meets her entrepreneurs and helps them develop sustainable businesses. One of those is Abraham Allotey who was awarded around 5,000 euros in seed capital and is expanding his bee farm by constructing 500 new beehives. Now he needs more land. Out of 40 business plans submitted this year, 10 have been selected to have their own dedicated business advisor.
At the Kaiko academy, west of Tokyo, students learn corporate thinking from a very young age with big business taking a leading role, supplying mentors known as 'floor masters.'
The elite seaside academy is funded by several top Japanese corporations. The aim is to nurture outstanding young pupils, and help them think independently whilst also working well in a team. They are destined to be the country's future leaders.
The 'floor masters' support the younger pupils taking on the role of older brothers, introducing them to the basics of corporate thinking in the Japanese business world. School fees are around 28,000 euros a year, three times more than an ordinary Japanese university, and the rules are strict. Comics, magazines, mobile phones, audio and gaming equipment are all banned. The only books allowed are school text books.
So far this training is only available to boys and young men, but there are possible plans in the offing for a school for girls and young women.