Frattini denies Italian support for Libyan rebels
Comments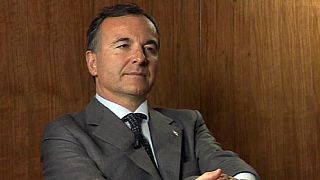 As the Lıbyan crisis intensifies Europe is watching developments nervously. There are concerns over energy supplies and an influx of refugees from the conflict zone. Italy, the former colonial power in Libya, has a complex relationship with the country. The Italian foreign affairs minister, Franco Frattini, spoke to euronews about his concerns over the unfolding conflict.
euronews:
"Minister Frattini, Gaddafi says he will resist to the death, while over 1,000 Libyans are reported to have been killed by his mercenaries. Prime Minister Berlusconi has assumed an attitude of non-interference towards Gaddafi, but the
Libyan dictator says that Italy has interfered by providing weapons to the demonstrators."
Frattini:
"That is not true, we have not given weapons to the demonstrators or the rebels. We did not give weapons to anyone in Libya. It is also not true that Italy has not taken a position against Libya. We have take the same position as the EU and the rest of the international community, which is strong condemnation of the bloodshed and a demand for the immediate cessation of violence."
euronews:
"Do you thing Gaddafi is trying to hold on to power by using the rhetoric of the past to get his people angry, calling for revenge for Italian colonialism, or even worse using blackmail, threatening a devastating invasion of migration to Italy and Europe?
Frattini:
"We reject any legacy of a colonial past that has hurt the Libyan people, but to once again accuse Italy and the United States of interfering in Libya's affairs is false, not true. We will continue to work with the international community to ensure that the violence ceases immediately."
euronews:
"No one wants to lose the profitable business Italian firms get from Libya, but at this point would be it not be better to tear up the friendship pact between Italy and Gaddafi?"
Frattini:
"The signature of this friendship is an agreement that has resulted in a treaty, overwhelmingly approved by the Italian parliament and concerns the Italian national interest. We will see what happens in the future. I hope we can finally start a national dialogue and that the demands of the Libyan people are heard, that the violence will stop. This is what the international community calls for and Italy is working on it."
euronews:
"How is it possible that nobody anticipated this great revolution that, from Tunisia to Egypt to Libya and most likely also tomorrow to Algeria and Morocco, has inflamed the whole Mediterranean?"
Frattini:
"Until two months ago the Western world had settled for partnerships of convenience, stability and economic interests. Perhaps we underestimated the partnerships of coexistence, those based on common social visions. No-one could have predicted the rapidity of events. Events were so fast that no government could make provisions, not even the Italian one. Above all it was absolutely not expected by the analysts who have written rivers of ink about the Arab world. And this was just between the end of December and early January. They did not understand anything!"
euronews:
"Now what will happen over the next five years?"
Frattini:
"I do not know what to say, but it's our duty to help this transition process without dictating policy to any of these countries. Only those unfamiliar with the Arab world could be so irresponsible as to believe that they would passively follow the directives coming from Rome or Brussels or Washington. They never follow that sort of lead! All the Mediterranean leaders, whom I know very well, recognise one Italian virtue: that of teaching others, by listening and then helping. This is the right way!"
euronews:
"It is now certain that there will quickly be an exodus of biblical proportions from North Africa. Northern League leader Umberto Bossi says that Italy must tell France and Germany to take the refugees: it's clearly a provocation but if Italy and Lampedusa island are the frontline, where is the EU?"
Frattini:
"Unfortunately, there were vague and inconsistent answers from Brussels. We strongly urge Europe to intervene quickly because the matter is not Italian or Sicilian, but it concerns the entire European Union. If there are 200,000 or 300,000 desperate people who head north, Italy alone could never take them. All EU countries should take on this issue. Otherwise it is simple: the crisis could undermine the principle of solidarity which is one of the pillars upon which Europe was founded in 1957. It would be a pickaxe blow into a fundamental requirement of Europe. We Italians are working to avoid this, and ensure there is a global European response to this emergency."
euronews:
"You have been vice president of the European Commission. Do you think that Brussels' attitude towards Italy is the result of a strong reluctance by the European Commission to deal with a government whose prime minister will be on trial next April?"
Frattini:
"The European Union doesn't usually take this sort of thing into consideration. These are the considerations of Italian domestic politics. We think and believe that the Italian government has every right, is legitimate, and has a parliamentary majority that allows us to move forward."
euronews:
"Honestly, haven't you been embarrassed to read for months, on the front pages of the world's newspapers, transcripts of Berlusconi's sexual shenanigans?"
Frattini:
"I have told many of my fellow ministers who read that this is probably the result of massive leaks, which in other countries are punished harshly. In Italy the invasion of privacy is permitted, tolerated and substantially encouraged. In most Western countries all this is punished. And that's what I explained to my European colleagues."