Saviano: "The Mafia boosted Eastern Europe's economy."
Comments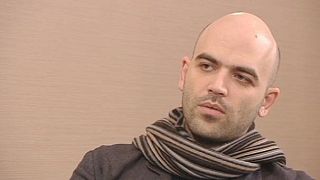 Roberto Saviano won the 2010 Europe Book Prize with his work "Beauty and the Inferno", although it is the 2006 book "Gomorra" which gave him international fame as a writer on the mafia and an essayist. In this interview with euronews he extends the mafia theme from a local Southern Italian phenomenon to the European and world stage and explains how organised crime has become a political actor taking advantage of failed states and the economic crisis.
Roberto Saviano, Europe Book Prize winner:
"The economic crisis has created huge opportunities for the stronger mafias, the winners, whereas it has had a negative impact on those mafias which are weaker, the losers. But criminal organizations such as the Nigerians, the Russians, the Casalesi from Naples and the Corsicans represent cartels which have brought liquidity to the economy during the crisis, and thanks to that liquidity they have succeeded in many areas such as in big construction and the banking system."
Sergio Cantone, euronews:
So they are useful at this particular moment because they are boosting the circulation of money. Is that right?
Saviano:
"Exactly. Sometimes I wonder that without this money the crisis in Italy, as well as in Europe, could be even worse. According to Italy's national anti-mafia prosecutor their turnover is as much as 100 billion euros a year, and that's just in Italy, so try to think about, for example, the amount of the South American drugs cartel's turnover in Spain. So, what about Europe without the money coming from drug smuggling?"
Cantone:
According to you are goverments, especially the Italian one, with its national problems, tackling these organizations efficiently?
Saviano:
"In Italy the state doesn't have a monolithic structure, it is in fact a complex country, So one may say that some of the institutions are showing good will and fighting on the firing line risking their own lives, as much as another part of it is deeply linked to organized crime. However, I think that repressive measures are not the right way to deal with this problem."
Cantone:
So what instruments do we need?
Saviano:
"Economic and political change."
Cantone:
How?
Saviano:
"Let's think for example about public tender mechanisms, where the mafias always win against their competitors, through the lower tarifs that they can offer, subsidised by the money coming from drug trafficking."
Cantone:
But this logic is coherent with todays economic logic. Isn't it?
Saviano:
"Exactly. However Italy alone can't do anything about it. The off-shore havens are mafia havens, they are especially mafia havens."
Cantone:
You have ignited a huge controversy in Italy by talking about alleged relations between organized crime and the Northern League, a political party that is currently a member of Italy's coalition government. It is also the party of the interior minister. Do you have any proof to back up these allegations?
Saviano:
"I said that the 'ndrangheta', the Calabrian mafia "interfere" and I can confirm that, because the mafia are used to "interfering" with powers and institutions. I have just mentioned an ongoing inquiry, that is still in the process of unveiling new clues, such as contacts, useful contacts, that represent the desire of organized crime to manage political parties' electoral registers and to corrupt politicians, but magistrate are inquiring into this."
Cantone:
Can you give our audience an example?
Saviano:
"According to ongoing investigations by magistrates Bocassini and Pignatone one discovers that the 'ndrangheta wants to meet the Northern League. In the tapes made of mafia boss Pino Neri, they speak about the Northern League. In them, he says that they wanted to meet them."
Cantone:
But were they welcomed by the Northern league?
Saviano:
"Let's say that they met a regional assembly counsellor. This regional counsellor then claimed he didn't even know who Pino Neri was. The magistrates will investigate. But that's enough to show how also in Northern Italy, the mafia and the institutions talk to each other. What I have said isn't a scandal. It is viewed as a scandal because I talked about a Northern Italian political party. Had I spoken about a Southern Italian political party, one would have considered it as a normal statement, because the Camorra, the Neapolitan mafia, interfering with a local southern party is viewed as part of an ordinary process. My goal was just to publicly claim that no one should consider themselves safe."
Cantone:
The current Italian interior minister, Maroni, is considered as being one of the most effective politicians in tackling mafias in recent Italian History… Is it true or not ?
Saviano:
"Yes, but just partially, because decisive action against the mafia is not only thanks to Maroni. He has taken over inquiries that have been going on for many years. The case of Caserta near Naples is a positive one, yet to claim victory over the mafia is simply a joke."
Cantone:
After the collapse of Communist regimes organised crime flourished. Why? What is the mechanism here?
Saviano:
"On the one hand there were legitimate companies, who were afraid to invest because their businesses could have suffered huge losses. While on the other hand there was the fear of the old Communist "nomenklatura", of losing its grip on power. So there was a sort of alliance between the mafia, who brought money and protected some politicians. The mafia also "interfered" with ordinary businessmen who were looking for a fast track through the usual red tape procedures. 'Do you want to start a new factory in Tirana? Ok mate, try to do it yourself.'
That meant paying kickbacks and taking on an inefficient bureaucracy. But, if you took those steps with mafia help they fixed everything and it only took three weeks. So they became the big central nervous system for investors. It is important to study in depth what the mafia did in Eastern Europe, because they have boosted the economy there, even within the framework of a freemarket logic, alas, because they took the risks."