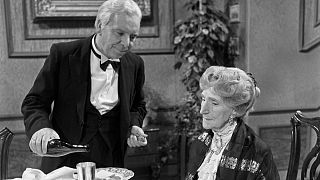 -
Copyright

Imago/United Archives
A prequel has been announced for 'Dinner for one' the popular film traditionally shown on New Year's Eve across much of Europe.
Based on a 1920s British music hall act, 'Dinner for One' was made into a film for German TV in the 1960s. It tells the story of Miss Sophie, a wealthy upper class British woman, who is hosting a dinner party on her 90th birthday for a number of well-heeled suitors, all of whom happen to be dead.
Filming for 'Dinner for Five' a six-part prequel will begin this year according to German production giant UFA.
What is 'Dinner for One'?
The beloved 'Dinner for One' is a comedy about the aforementioned macabre dinner party of Miss Sophie.
During the events of the film Miss Sophie's butler, James, is forced to play the part of her deceased love interests, making toasts with increasing gusto as he becomes increasingly intoxicated during the ritual which takes place annually for the elderly eccentric's birthday.
The black and white movie, in which Miss Sophie is played by May Warden and the butler is portrayed by Freddie Frinton, is viewed by millions on New Years Eve across northern, central and eastern Europe.
The story of 'Dinner for Five' will take place 51 years before the events of the original on the south coast of England, when Miss Sophie is a 39-year-old independent woman of means and show the since-dead suitors as they vie for her affections.
"As a child, I always asked myself why the four men don't sit at the table and what they may have looked like," says producer and scriptwriter Tommy Wosch.
"Of course, it would be a dream to produce a New Year's Eve classic for the entire family."
The Nordic and Baltic countries as well as the German-speaking nations all schedule 'Dinner for One' each year with viewers from Helsinki to Hamburg tuning in to watch the drunken butler.
Germany enjoys the highest ratings with an estimated 12 million people tuning in but viewers in Switzerland, Austria, Sweden, and Denmark all also watch the farcical favourite.