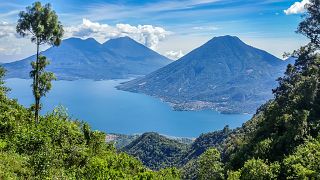 Whether you want to hike a volcano, swim in Latin America's deepest lake, or hunt for a bird that inspired a currency, Guatemala has it all.
Considered a megadiverse country because of the richness of its nature - it's home to thousands of plant species, many of which can only be found within its borders - making the 'place of many trees' a once-in-a-lifetime destination.
What is the only Central American country with a majority Indigenous community?
Located in the Central American region, just below Mexico and bordered by Belize, Honduras and El Salvador, the country has Pacific and Caribbean coastlines, and its borders are packed with dense forests, lakes, mountains and volcanoes.
As well as being ecologically rich, Guatemala is culturally rich too. The majority of its population are of Indigenous Mayan descent, with 21 different Mayan communities making Guatemala the only Central American country with a majority Indigenous community.
With so much on offer it can be hard to know where to start. So whether you want to explore the dense forest and ancient Mayan ruins of Tikal or get to grips with the country's volcanoes, here are some of our favourite things to do in this Central American marvel.
Can I climb a volcano in Guatemala?
Guatemala's volcanoes tower over the intricate landscapes below, creating the perfect climate for cloud forests - a delicate ecosystem where mountains and rainforests meet. As well as being damp environments thanks to the clouds, these forests are also super diverse, with orchids and bromeliads bursting from the sides of trees.
All this diversity makes for an amazing hike. "The landscapes are beautiful," says Ana Yancy Rodríguez, the General Director of the Guatemalan Institute of Tourism.
"We are surrounded by volcanoes, we have 37 volcanoes, including three active volcanoes where you can have the experience of climbing a volcano and seeing the lava."
Guatemala's most renowned volcano hike is Acatenango, which offers travellers some epic views of the surrounding mountain chain. The peak sits at a height of 3,976 metres, so don't expect to walk it in an afternoon. Hikes are generally two days long, and may involve some overnight travel.
On the way up you'll pass through cloud forest, alpine forest and enjoy panoramic views of Fuego, a neighbouring active volcano
Can I swim in Lake Atitlán?
One of the most visited tourist attractions in the country, Lake Atitlán is famous for a reason. Plunging down to 341 metres, it's the deepest lake in Latin America, with shimmering blue and green waters making it a must-see.
Located in the Guatemalan Highlands, it's considered one of the most beautiful lakes in the world, so make sure to pack your camera. Tourists are welcome to swim here, and many of the surrounding resorts have docks and diving boards. Formed around 84,000 years ago by a volcanic eruption, it really is one of the jewels of Guatemala.
What are the 12 Apostles of Guatemala?
Dotted around the shore of Lake Atitlán are 12 volcanoes, each of which has its own community, as Rodríguez explains. "The lake is surrounded by 12 villages that bear the names of the 12 apostles of Christ," she says.
"Each of these villages has its own cuisine, its own language, and its traditional costumes as well. And for us it is very important to make this natural heritage known, accompanied by all the cultural richness that our country has. We are a country that still conserves its Mayan culture."
The largest of these surrounding towns is Santiago de Atitlán, which is home to around 70,000 people, the majority of whom are Tz'utujil Maya. Sat between two volcanoes - San Pedro and Toliman - it's a great place to learn more about contemporary Mayan culture.
What will I find in Tikal Archaeological Park?
To learn more about the long history of Mayan culture, you need to head to Tikal Archaeological Park. Set deep in the rainforest of northern Guatemala, the Mayan ruins here belong to a settlement that dates back as far back as 600 BC, though the majority of the ruins are from 200 - 900 AD.
Named Yax Mutal, this was one of the largest cities ever created by the Mayans and seeing the 3,000 structures, including temple pyramids, surrounded by the dense jungle of Petén makes for an unforgettable experience.
If you're planning to visit, it's best to stay in Flores, Petén's capital, which is under an hour's drive away.