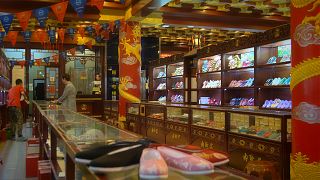 In Beijing, tradition and quality matter. Mr San Yeh takes us in his tuk-tuk through the hutongs, the old Beijing neighbourhoods with little houses and narrow streets
"Beijing is immense. To go through it, those who worked for the Emperor used "neiliangsheng", extremely sturdy shoes which are still produced today," reports euronews' Aurora Velez.
There is an old saying which stated that those royal courtiers who wore Neiliangsheng shoes  would be blessed with a promotion. After the revolution of 1911, writers and then artists began to wear them. Totally handmade, they have been produced in the Houton Quiamen - Leinliangsheng store since 1853.
"The sole is made of cotton and linen. There are 35 layers in the sole for men's shoes and 31 for women's shoes. There are 81 stitches every 11 square centimetres, and it takes one person a week to make a pair," says the inheritor of Neiliangsheng Craft of Multi-layer-sole shoe, He Kaiying.
Neiliangsheng shoes have been a Beijing cultural footprint label since 2008.