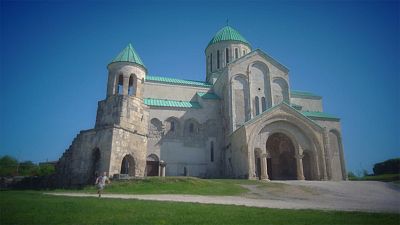 In this episode of 'Postcards', we discover Bagrati Cathedral, the symbol of the city of Kutaisi, nearly 250 kilometres west of Tbilisi.
It was built under the first Kingdom of Georgia, a period of political and economic strength for the country.
"The cathedral is one of the main tourist attractions of the city," said 'Postcards' reporter Claudio Rosmino.
"It is named after King Bagrat III, who commissioned its construction in the early years of the 11th century. Since then, it has become a landmark of Georgian architecture."
The cathedral suffered heavy damage throughout the centuries and was gradually renovated from 1952 to 2012.
"Bagrati Cathedral is in a 3,500-year-old city, one of the oldest in the world," explained Sulkhan Kuprashvili, a professor of history from Kutaisi State University.
"The construction of this church started a golden age for Georgia. For centuries, Bagrati has remained a symbol of the country with its high standards of education and culture."
Bagrati Cathedral is now of only limited use for services of worship.