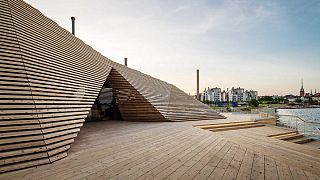 Do you want to know what my final thoughts were? They're a secret – but I'll tell you anyway. They were: 'I want to be a Finn. I want to find a Finnish wife who can chop down a tree in under 60 seconds. And I want to have 10 blonde children who'll bring me cans of Original Long Drink and bars of Goodio Chocolate whenever I click my fingers.'
These secret thoughts came to me right after I'd jumped into the Baltic Sea, in the dark, on the evening of January 2 2018 – with the mercury barely above freezing. My heart was racing, yet my body felt as if it was creaking to a halt like a car out of petrol. The chill went right to my marrow. I bobbed in the Baltic, alone, happy with 37 years of good-to-quite-good journalistic output and a life lived quite well, thanks.
As I hauled myself out of the briny and realised I wasn't about to expire sporting swimming shorts (oh the indignity), life suddenly felt sweeter than ever. They say a sauna makes you feel more alive, but a sauna with a secret walkway down to the sea itself is quite a way to live. This is Loyly – something special in a country that invented the concept and the word for getting sweaty with strangers in a wooden cabin then plunging into water that's so cold even the fish have swum to the Canaries for winter. It's a bespoke wooden treat of a place with a flashy design – owned by Jasper Pääkkönen, who stars in the TV show Vikings. And (secret tip) if you see a guy with a full Viking beard hanging around the showers, it's probably him. Approach slowly, and always from the front. Loyly is hidden on former docks away from Helsinki's more conventional tourist sights.
This is a city brimming with secrets and winter is the best time to experience them because the crowds are light (most locals have fled to Thailand while tourists prefer warmer months) and the darkness that descends at 1500 every day adds an air of mystery to things.
There are so many amazing sights hidden away, like Temppeliaukio Church which was blasted out of rock and is hardly visible above ground, or the eye-popping balconies of Helsinki University's main Library. Or Suvilahti – a former power station by the sea that's been turned into studios for creatives and hosts the annual Flow Festival of cool music and design every August. Or there's the Futurohouse which squats behind EMMA – a museum which itself sits on a back road behind a shopping centre. The Futurohouse is an uncompromising slice of sixties plastic pop pomp shaped like a yellow UFO and intended as a ski lodge. It couldn't look like it was more out of the Jetsons if it tried.
Finns have perfected a rational, beautiful approach to design and you can enjoy the Design District's shops and the annual Helsinki Design Week. Nokia may be a swear word round these parts but Marrimekko is a beloved export success. I'm lucky enough to get a pad pimped with products from this Finnish behemoth while I'm staying at Aallonkoti Appartments so I decide to go in search of the company's soul. It can be found in an HQ on a shabby street in an industrial district a few Metro stops east of the city centre. I pile up my tray at their staff canteen Maritori with vegan loaf, soup, salad and rye bread. The cute crockery and napkins all bear their signature spherical designs.
These canteens are a big thing here and offer bargain lunches and perfect prying possibilities for the hunter of secrets. At Kasarmikatu 21, I wangle my way in to the canteen in this office building that isn't even finished – and gorge on salsify soup with peanuts. More upmarket eats are available nearby at Juuri where the lamb with pickle cabbage dazzles.
I'm observing Dry January but it doesn't stop me being wowed by Jackie, a 70s-themed bar hidden away and designed with verve by Joanna Laajisto. And Roster is worth discovering too. Behind the curtain that has a 'Bar' sign dangling above it is a secret back room that is used for the launch of the annual Lux Festival which brings the dark nights to life with a welter of light art tucked into secret spaces and projected onto unusual buildings around town.
I've spoilt some of the city's secrets. But I think Helsinki will forgive me – because there are many more I can't share, and many more you'll have to discover for yourself.
More information: www.myhelsinki.fi/en
Writer: Christopher Beanland
Follow Christopher @chrisbeanland and on christopherbeanland.com
Header Picture: Loyly