The eaterie will open just off the Norwegian coastline and marine biology is on the table.
Seafood belongs in the sea and for the first time diners in Europe will be able to enjoy it there.
'Under' is opening at the southernmost point of Norway's coastline near the village of Båly and as well as a restaurant will function as a research centre for marine life, according to the project's international architects.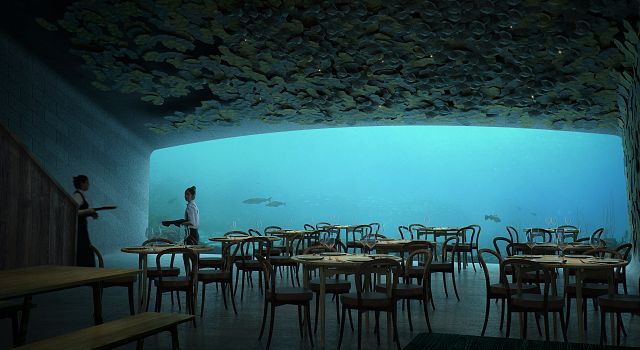 Credit: Snøhetta and MIR
Snøhetta, known for their work on the Bibliotheca Alexandrina in Egypt and the Norwegian National Opera and Ballet, says that the monolithic structure will become a part of its marine environment, five metres below the surface of the sea.
The meter-thick concrete walls offer a coarse surface under water to invite mussels to cling to.


Credit: Snøhetta and MIR
Resembling a sunken periscope, the restaurant's 11 × 4-metre panoramic acrylic window offers views of the seabed throughout the year.
Snøhetta emphasises that Under has been designed with high environmental considerations and the capacity to act as a research base.


Credit: Snøhetta and MIR
There will be three levels, the entrance, a champagne bar and the restaurant, it can accommodate up to 100 guests.
The project is to be completed by early 2019.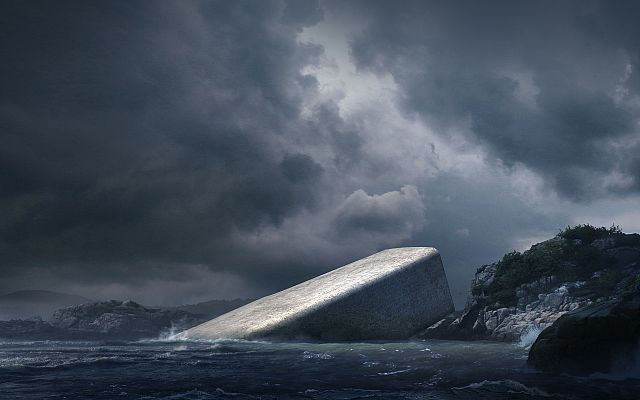 Credit: Snøhetta and MIR
You might also like