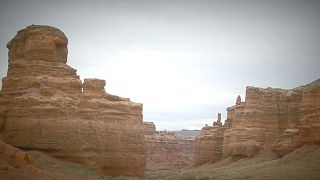 Our new series of Postcards comes to you from the southeastern Kazakh region of Almaty.
The spectacular Charyn Canyon is a major attraction here, about 200 kilometres east of Almaty city.
And yes, a certain place in Arizona in the U.S. comes to mind when you visit.
Key facts about the Kazakh region of Almaty:
The region is in the country's southeast
It shares a border with Kyrgyzstan & China
It covers an area of 225,000 sq kms
The city of Almaty is the country's largest
It is a former capital of Kazakhstan
 
Euronews' Seamus Kearney reported: "This natural wonder is often described as the Grand Canyon's little brother, with one section known as the 'Valley of Castles' because of the impressive rock formations that almost seem man-made."
The great thing about the Charyn Canyon is the easy access to get right up close: the entire canyon can be visited from above and below, either by vehicle or on foot.
Kutlukzhan Unusov from the Charyn National Park told Euronews: "The Charyn Canyon was formed 12 million years ago when an ancient lake receded. This part (of the canyon) is three kilometres long and it's the River Charyn that flows through it."
Whether it is summer or winter, from sunrise to sunset, the sedimentary sandstone provides an ever-changing spectacle of fascinating shapes and dazzling colours.
Join us for a bonus flight around the Charyn Canyon's Valley of Castles, with this exclusive drone footage captured by the Postcards team: