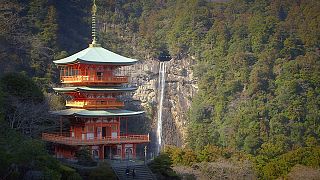 In this episode of Postcards a unique spiritual experience in Japan's Kansai region.
We are on the Kii Peninsula to walk the ancient Kumano Kodo pilgrimage trails, which lead to many shrines, temples and other sacred sites.
Key facts about Japan:
It is an island nation in East Asia
The population is more than 127m
Land area is just under 378,000 km2
The country's currency is the Yen
Main religions are Shinto & Buddhism
Euronews' Seamus Kearney reported: "As part of the more than 600 kilometres of pilgrim tracks that mostly start in the city of Kyoto, magical sights greet visitors along the way."
Young women in red and white traditional costumes, which include large hats with veils over them, can often be seen walking along the route.
The trails are more than 1,000 years old, attracting both Shinto and Buddhist pilgrims, as well as holidaymakers.
The area was added to the UNESCO World Heritage list in 2004.
Ietaka Kuki, the head priest of the Kumano Hongu Shrine, told Postcards: "Kumano is a place of rebirth for the mind and soul.
"We say that after the renewal that we experience here we can make a new start towards a new life."
And further along the pilgrimage route, what is thought to be Japan's oldest geothermal hot spring is also a popular spot to rest.
From the fastest mochi pounders to colourful kimonos, Japan in 360° https://t.co/S02PTaTOV6

— Seamus Kearney (@seamuskearney_) February 23, 2017