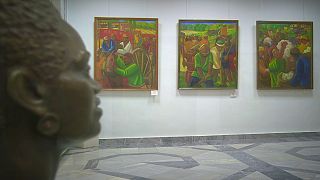 This week in Postcards from Uzbekistan, a treasure trove of forbidden artwork in the country's northwest.
Key facts about Uzbekistan:
It's in Central Asia, with neighbours including Kazakhstan, Turkmenistan, Kyrgyzstan & Tajikistan
With a population of more than 30 million, the ex-Soviet republic became independent in 1991
The total land area is 425,400 km2, with plains covering about four fifths of the territory
The average winter temperature is -6 degrees celsius and in summer it rises above 32
Almost 80 percent of the population is Uzbek and the main religion is Muslim (88 percent)
Many paintings banned by authorities in Soviet times were saved here in a secret collection in the autonomous Republic of Karakalpakstan.
A lot of the work can be seen in this museum in Nukus, which now has the world's second largest collection of Russian avant garde paintings.
The man who saved the work was a Kiev-born artist and archaeologist, Igor Savitsky, who came here in the 1950s.
Euronews' Seamus Kearney reported: "On display here are more than 300 avant garde paintings that Igor Savitsky managed to bring here for safekeeping.
"And they include both emerging and known Russian and Central Asian painters."
But it wasn't just a mission to save the forbidden art, but also to stress the importance of protecting local history for future generations.
Erekeeva Miyrigul from the Karakalpakstan State Museum of Art told Postcards: "Igor Savitsky saved not only art by Uzbek and Russian painters but also ethnographic art of Karakalpakstan.
"He encouraged Karakalpak people to preserve their art."
The museum is now home to about 100,000 different items and new exhibition space has recently been added.
360° videos reveal secrets of Uzbek treasures https://t.co/RppNfYE842

— Seamus Kearney (@seamuskearney_) February 21, 2017