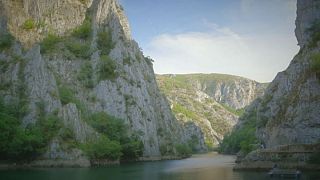 Our new series of Postcards begins near the Macedonian capital, with the impressive sights of the Matka Canyon.
There are many trails, flowers, butterflies, insects and wild animals
Key facts about the Matka Canyon:
It's located about 15 kilometres west of the Macedonian capital
The sides, created by erosions of the Treska river, reach up to 1000m
The canyon is also home to medieval buildings including monasteries
The site covers of an area of around 50 square kilometres
The canyon boasts numerous caves, the most famous called Vrelo
It is a popular spot for locals and tourists alike.
Euronews' Seamus Kearney reported: "It's a great place to go hiking, but the other popular way to see the canyon is by boat, to get even closer to the stunning scenery."
As well as activities on the water, there is more than 50 square kilometres of nature to discover.
And the site includes medieval buildings including churches and monasteries.
It is also very accessible, just 15 kilometres from Skopje.
Bajram Sulejmani, a Matka tour guide, told Postcards: "I feel like (I'm in a small part of paradise) because (there are) many trails, flowers, butterflies, insects and wild animals."
Whether it is a relaxing day trip, or something more adventurous like exploring caves, Matka offers something for everyone.