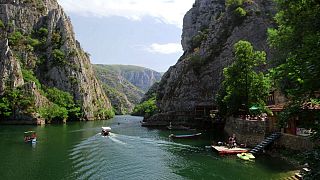 If you ask people in Skopje, the Macedonian capital, where they prefer to go for a day-trip when they want to get away from the hustle and bustle of the city the answer is almost unanimous: Matka Canyon.
This large area of natural beauty, which covers some 50 square kilometres, is also a real treat for visitors to the country. It is easy to get to, just 15 kilometres from the city.
To really get a sense of the impressive scenery, check out our video of the canyon filmed from above with a drone.
Matka has something for everyone, whether it's to go hiking or just chill out at a cafè for lunch.
There are numerous medieval monasteries and churches to visit and some of them are within easy reach. Some of the buildings also feature beautiful religious artwork inside, including frescoes. There are also the remnants of an ancient fortress.
There are several places to sit down and eat or drink, and picnic tables are also available for those who want to bring their own food.
To discover the outstanding nature, there are easy walks around the edge of the lake and more difficult treks right up the sides of the canyon. Some of the walks also link up with long trails that wind back towards Skopje.
One of the most popular ways to see the canyon in all its glory is by boat, either in a group on a small passenger vessel or by hiring a kayak. It really is worth trying to get up as close as possible to the steep sides of the canyon, to see areas not accessible by foot.
There is a whole host of rare animals and plants to discover and many different species of butterflies.
The canyon is also home to ten caves, including the famous Vrelo cave, which has many stalagmites, stalactites and two lakes. The exact depth of the cave is not known, but some people have suggested it could be one of the deepest in the world. It is also popular with divers.
The sides of the canyon rise up to 1000 metres in parts, created by vertical erosion of the Treska River, giving Matka its breathtaking views.
Many locals say that no matter how many times they visit the canyon, there is always something new to discover.
By Seamus Kearney