Brussels plans overhaul of EU carbon market as part of green push
Comments
By Euronews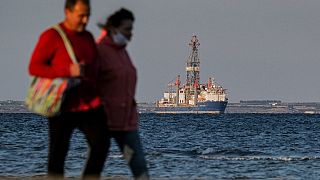 -
Copyright

AMIR MAKAR/AFP
The European Union's carbon market for getting polluting industries to reduce their greenhouse gas emissions is set for major reform.
A huge package of more than 12 legislative proposals will be presented on Wednesday to help the bloc achieve its goal of reducing carbon emissions by 55% by 2030.
The plan, known as 'Fit for 55', includes new proposals but also a revision of many existing regulations.
The EU Emissions Trading Scheme (EU ETS) -- the first and biggest carbon market in the world -- is set for reform in a bid to increase its efficiency.
Sam van den Plas, a policy director at Carbon Market Watch, says some sectors currently receive too many free allowances.
"The polluters should pay for their greenhouse gas emissions and this is currently not the case," he said. "Over 90% of all emissions coming from sectors like steel, cement and chemicals are basically covered with free emission allowances."
The EU ETS works under one idea: the polluter pays. So companies from high polluting sectors like energy power plants and industrial installations have to buy permits to emit. The system covers around 40% of all EU emissions.
This is known as the 'cap and trade' principle. A ceiling is set on the total amount of certain greenhouse gases that can be emitted by the installations covered by the system. That limit is then reduced over time so that total emissions fall.
Within this cap, installations buy or receive emissions allowances, which they can trade with one another as needed. The limit on the total number of allowances available ensures that they have a value.
One of the main changes in it is the inclusion of maritime shipping. It doesn't currently fall under any carbon emissions reduction system, but it represents some 13% of all the EU transport-related emissions.
Martin Dorsman, secretary-general of the European Community Shipowners' Association, says the sector is displeased with the idea of this new inclusion and wants a worldwide regulation instead of a European one.
"Shipping is a global industry, so we have a strong preference for global regulations," Dorsman told Euronews.
But climate activists claim the International Maritime Organization, which is in charge of this, is not moving fast enough.
Dorsman agrees with the reduction goal but asks to explore other options, like investing in infrastructure at ports, as well as the use of new fuels.
"What we are discussing is the most effective way. For example, we should introduce a specific fund on the EU ETS and the revenues of that fund can be used in the shipping industry for example to do more research and development or to invest in infrastructure in ports because ultimately to decarbonise we need new fuels," he said.
The plan also includes tougher conditions for aviation and internal EU flights, which the airline sector says risks significantly increasing "the competitive advantage of non-EU airlines and non-EU hub airports".