International Women's Day: 'Motherhood biggest obstacle to my career,' says leading scientist
Comments
By Euronews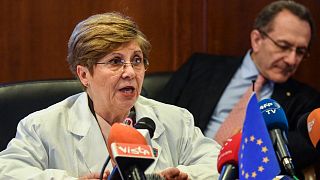 Motherhood has been the greatest obstacle to career progression, according to the Italian scientist who isolated the COVID-19 genome sequence.
"The unique time that I suffered for being a woman was when I decided to be for the first time a mother," Dr Maria Rosaria Capobianchi, head of the Lazzaro Spallanzani National Institute for Infectious Diseases, told Euronews on International Women's Day.
"It was a very difficult time for me to balance my teaching and research activity due to the duties connected to the role of mother, but I overcame this."
Capobianchi led the team that isolated the COVID-19 genome sequence last year at the start of the pandemic.
And for her, it was the easiest part of her work on the virus.
"The episode of isolating the virus from the first patient that we observed in Italy was an arrival point. It was an episode among many others. It was even not the most difficult," Capobianchi explained.
But she hasn't been the only woman making a significant contribution towards fighting the coronavirus to experience a professional setback due to motherhood.
Dr Katalin Karikó, senior vice-president at BioNTech, told Euronews that her experience has been similar.
But the Hungarian doctor didn't let that stop her from becoming one of the main architects of the groundbreaking messenger RNA (mRNA) technology used in Pfizer/BioNTech's vaccine against COVID-19.
The technique, also used by Moderna, is revolutionary in the sense that it doesn't use a weakened or inactivated germ to protect against the virus. Rather, it teaches human cells how to make the protein that triggers an immune response in our bodies, as a result producing antibodies that protect us from getting infected.
Karikó told Euronews that despite kickback against the technology, over the years, she always defended its potential to be used.
"In the University of Pennsylvania, those years, I arrived there in '89, I wanted to develop messenger RNA for therapy and that's what I was working for," the Hungarian scientist explained.
"Of course, this was the decade of gene therapy, so everybody wanted to use the DNA and I was the egg in the cuckoo's nest [an intruder]. You know, this shouldn't be, messenger RNA is a good thing."
But on motherhood and career advancement, Spanish MEP Susana Solís explained to Euronews that it is not uncommon for maternity to have a negative impact on a woman's career.
"Many women advance in their professional life, but when they reach motherhood, which usually coincides with the best part of their professional career, they either drop out or see it cut short," Solís explained.
"And that is something that we must address and that we have talked a lot about here in Parliament because I believe that we have to move towards equal paternity and maternity leave. We must advance further on these issues."