Watch: Labour's Jeremy Corbyn makes first major election pitch
Comments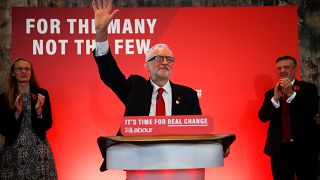 Copyright

REUTERS/Henry Nicholls

-
Jeremy Corbyn, the leader of Britain's main opposition Labour party, made his first major election pitch on Thursday.
Corbyn's speech from Battersea, south-west London, comes after MPs this week approved legislation put forward by Prime Minister Boris Johnson to call a snap election on December 12.
Johnson had previously lost three votes — which required a two-thirds majority of MPs — over whether to have a fresh poll.
Before agreeing to one, opposition parliamentarians wanted assurances the country would not crash out of the European Union without a deal.
They were assured when the EU agreed to extend the Brexit deadline from October 31 to January 31 to leave time for the UK parliament to ratify the new divorce deal struck between London and Brussels earlier this month.
In his speech, Corbyn took Johnson to task saying he "has failed" to deliver on his promise that "he would rather be 'dead in a ditch' than delay (Brexit) beyond today".
"Labour will get Brexit sorted within six months. We'll let people decide whether to leave with a sensible deal or remain," Corbyn pledged.
READ MORE: Brexit: why is there another delay and a UK election? | Euronews answers
He refuted the Prime Minister's claim that "Brexit is being blocked by the establishment elite", arguing that voters "know the Conservatives are the establishment elite".
Corbyn also attacked the Conservatives' main campaign pledges to put more police officers on the streets and to boost funding for the National Health Service (NHS).
He accused Johnson of seeking to open up the NHS as part of negotiations for a trade deal with the US and said the Conservatives — in power since 2010 — "have slashed taxes for the richest and slashed vital services ad support for everyone else".
"We will invest in every nation and region, rebuild our public services and give our NHS, schools and police the money they need by taxing those at the top to properly fund services to everyone," Corbyn said.
READ MORE: How can British expats vote in the next general election? | Euronews answers
In response to his speech, the Conservatives said on Twitter that although "Corbyn talks tough on tax avoidance", he and Labour "voted against 39 of our measures to tackle" it.
Meanwhile, the Liberal Democrats have said that "Labour and Conservatives are stuck in the past" and that they "have failed Britain". The anti-Brexit party is campaigning to stop Brexit altogether.
According to pollster YouGov's latest political tracker, carried out across Tuesday and Wednesday, the Conservatives have a 15 percentage points lead over its nearest rival, Labour.
READ MORE: 'Revoluciones, Si! Elecciones, no!' UK PM mocks Corbyn in Spanish