EU turns to Africa to help tackle migration
Comments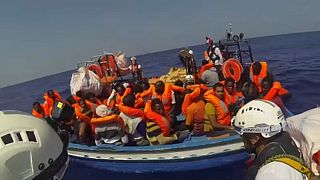 Divisions continue to run deep in the EU over migration. Sharing out refugees and plans to strengthen the bloc's border force, Frontex, continue to hit hurdles.
But, coming together in Salzburg, EU leaders did agree on one thing - to strengthen cooperation with Africa.
"The North-African countries are important partners for us in preventing ships heading to Europe and after the rescue [of such ships] there being brought back, in other words to the countries of transit," commented Sebastian Kurz, Austrian Chancellor.
"Only in this way can we reduce illegal migration, can we destroy the business of human traffickers, can we stop the drowning in the Mediterranean Sea."
Egypt could play a major role. The EU sees Cairo as a point of support for this new cooperation between the two shores of the Mediterranean.
Dialogue has already got underway.
"Together with Chancellor Kurz we have started a dialogue with the Egyptian president and now we can say there's backing from the European Council for this and similar dialogue," confirmed EU Council President Donald Tusk.
Tusk is due to meet the Egyptian president on Sunday. More meetings will follow in the coming weeks, with African leaders.