Catalan crisis hits Western Balkans summit
Comments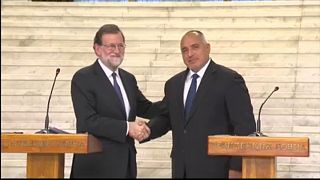 As EU leaders meet with their Western Balkan counterparts at a summit on Thursday, there'll be a notable absence.
Spanish Prime Minister Mariano Rajoy won't be at the meetings. Why? Because they involve Kosovo President Hashim Taci.
Madrid's never recognised the independence of Kosovo - and fears separatism on its own soil with the Catalan crisis.
But one expert says there are distinct differences.
"In Kosovo we are talking about very clear oppression of a very large part of the population in Kosovo by a dictatorial regime at the time. There's been clear human rights violations, there's been ethnic cleansing. So this is clearly a totally different situation than in Catalonia, where thankfully we have not seen all these elements," said Professor Dave Sinardet, from the VUB university in Brussels.
Kosovo declared independence ten years ago - and has been recognised by more than a hundred countries, something that helps to fuel the Catalan independence campaigners. But it's recognition they don't have.
Sinardet commented: "The Catalan nationalist parties will use what they see as the precedent of Kosovo to also defend their rights, their legitimacy to an independent state, but clearly this view is not followed by the international community."
In addition to Spain, four other EU countries don't recognise the independence of Kosovo: Greece, Cyprus, Romania and Slovakia. And that's a big hurdle to jump, if Kosovo is to ever become a member of the European Union.