Belgian spirits company fears Trump trade war
Comments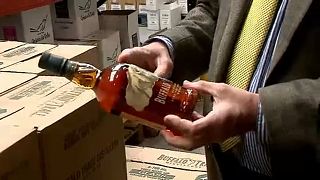 For one Belgian spirits importer, Donald Trump's threat of a trade war is worse than a bad hangover.
Bourbon whisky from Kentucky and other parts of the US make up a big part of the 'Premium Spirits' business.
Trump's tariff plans for imported steel and aluminium risk retaliations on American exports.
"If tomorrow, there is a change in import duties, it will affect them (the distillers) tremendously - and affect our business, of course," said Jacques Carlens, Premium Spirits manager.
"We might have to reduce our activity, because of the change of legislation. We are going back to the 1950s! Do we want to have Prohibition again?"
Brussels could slap a 25 percent tariff on billions of euros worth of US products, ranging from bourbon to Harley Davidson motorbikes.
The EU's trade commissioner doesn't want an escalation, but says measures would have to be taken to protect jobs.
Cecilia Malmstrom said: "We cannot see how the European Union, friends and allies in NATO, can be a threat to international security in the US. We find that assumption deeply unjust."
From Brussels, Euronews' Stefan Grobe reported: "There is still hope in EU circles that a trade war can be avoided. After all, Trump is unpredictable. But that means, it can also get worse."