Helping Europe's homeless as cold snap bites
Comments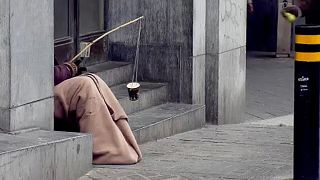 As a cold snap of weather sweeps across Europe, spare a thought for those sleeping rough in the street.
In one municipality of Brussels, a mayor's taking drastic measures to help protect the homeless. An enforcement order has been issued, giving police the powers of arrest, if people refuse to go to shelters.
"You cannot accept a person's will to put themselves in danger. If you have someone who wants to jump off a bridge, are you going to push them or are you going to hold them back? You're going to hold them back, of course," commented Etterbeek mayor Vincent Dewolf.
"There is also a legal obligation to provide assistance to people in danger. And me, being responsible for safety and public order, I feel obliged to do this."
At a Red Cross centre in Brussels, the homeless can get a roof over their heads and eat some food. They can also access medical help. It can be a real life-saver, especially when it is so cold outside.
"If people are put in danger outside and risk their lives, it's perfectly normal to bring security for those people. It would be a shame to have street deaths because the authorities didn't do what was necessary to protect the person," said Red Cross centre director Freddy Simon.
Diego, who's from Spain, has been living on the streets in Belgium for seven years and does not want to go to a shelter.
"It's dirty, people steal, it's a mess, so I prefer the street with my wife," he told Euronews, commenting on government facilities.
But with temperatures plummeting at night, there are growing concerns for the welfare of those like Diego.