Venezuela's opposition awarded Sakharov Prize
Comments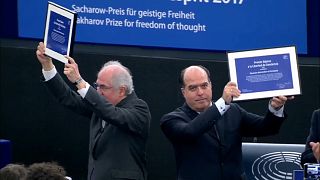 There have been emotional scenes at the European Parliament in Strasbourg, as the EU's top human rights award – the Sakharov Prize for Freedom of Thought – went to Venezuela's opposition and political prisoners.
Former Caracas Mayor Antonio Ledezma, who escaped house arrest and made it to Spain, among the representatives at the ceremony.
"By awarding this prize, we defend the constitutions, the institutions, the separation of powers. And that's the basis of democracy," said European Parliament President Antonio Tajani.
Venezuela's seen deadly anti-government protests amid a political and economic crisis.
Divisions are running deep between supporters of President Nicolas Maduro's Socialist government and the opposition.
Not everyone is supportive of the choice of this year's Sakharov recipient.
"To give the award to other political parties, and that is a democratic opposition, means to intervene in the situation in Venezuela and that is not the sense of the Sakharov prize," said Gabi Zimmer, German MEP.
The Sakharov Prize is named after a Soviet scientist and dissident. Last year, it went to two Yazidi women who escaped the so-called Islamic State.