EU and China join forces to tackle Trump over climate change
Comments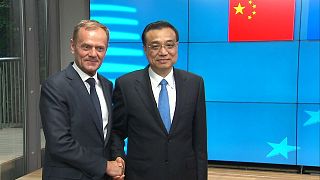 China and the European Union are often at loggerheads diplomatically but there's been a rare consensus on the need to protect the Paris climate deal.
We are both ready to contribute to stability in the world.
The Chinese prime minister Li Keqiang said that combating global warming is an "international responsibility"; a position that is line with the EU but quite opposed to the "Trump's America First" policy.
Li Keqiang's comments came as he arrived in Berlin ahead of a summit in Brussels with EU leaders.
More cohesion, integration and prosperity have been the subjects of discussion for civil and business leaders meeting at the Brussels Economic Forum; all that and more in today's edition of the Brief from Brussels.