EU's Tajani holds talks with PM May
Comments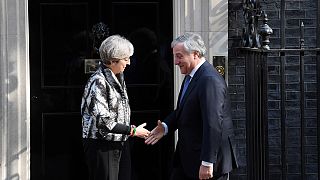 The head of the European Parliament has urged the British Prime minister to strike a quick deal on the rights of EU citizens living in the UK
Antonio Tajani told Theresa May that British people living in EU countries need certainty as well.
"The message is a positive message: We want to strengthen the citizens rights – the European citizens living in the UK and the UK citizens living in the European Union. The is the most important message. We want to work together."
May called a snap election for June the 8th on Tuesday and Parliament will be dissolved next month.
Meanwhile the head of the European Commission Jean Claude Juncker will meet with the British PM on Wednesday.
The remaining EU 27 hold a summit on Brexit on April 29th.