UK to hold snap general election on June 8
Comments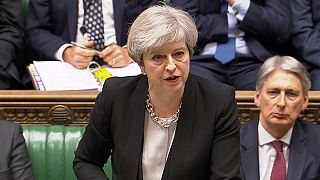 The House of Commons has voted and the UK will go to the polls on June 8.
Prime Minister Theresa May said she was calling for a snap election in just seven weeks' time to help unify Parliament ahead of Brexit negotiations and to prevent instability.
522 MPs backed her motion to trigger the ballot, while 13 were against. There were over 100 abstentions.
At least 434 votes were needed in order to approve the election.
'A vote for unity'
Announcing her intention to call for a vote, May said "The country is coming together but Westminster is not." However, the figures appear to contradict her statement: some three quarters of MPs and two thirds of the Lords voted for Article 50.
Speaking ahead of the Westminster vote, May said:
"I think it is right now to ask the British people, to put their trust in me and the Conservative Party to deliver on their vote last year a Brexit plan that will make a success for this country and deliver a stronger, fairer global Britain in the future."
May is adamant she will not take part in a televised debate in the run-up to the vote, despite numerous MPs calling for her to do so.
Leader of the opposition Labour Party Jeremy Corbyn was among those calling for a debate.
"The Prime Minister also says this campaign will be about leadership. So then let's have a head-to-head TV debate about the future of our country. Why has she rejected that request?" he asked.
At least one British broadcaster has since announced it will host a debate.
Criticism
Although Labour has backed the snap election, Corbyn asked how the UK public is expected to trust May.
She was reproached for backtracking on her repeated assertions that there would be no election before 2020.
The Fixed-term Parliaments Act 2011 outlines that general elections are scheduled to take place every five years. As such, the next ballot was due to be held on May 7, 2020.
However, there are exceptions. An earlier election can take place if: a motion for an early general election is agreed either by at least two thirds of the whole House of Commons or without division; or, if a motion of no confidence is passed and no alternative government is confirmed by the House within 14 days.
Liberal Democrat leader Tim Farron, meanwhile, accused the prime minister of looking after the interests of "party before country."
PM's popularity strong
Despite criticism of May among MPs, current opinion polls give the ruling Conservatives their strongest lead in years. The Tories appear to be at least 20 points ahead of the opposition Labour Party.
A YouGov survey (April 17) for The Times newspaper places the Conservatives on 44 percent, Labour on 23 percent, Liberal Democrats on 12 percent and Ukip on 10 percent.
Labour's rating is the lowest recorded in a YouGov survey since 2009.
Theresa May took over from former Prime Minister David Cameron without an election following last June's (2016) Brexit referendum and the decision to leave the European Union.