EU's Juncker unveils post-Brexit blueprint
Comments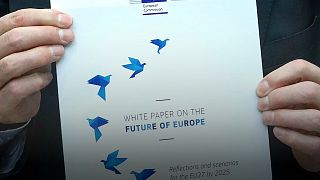 The head of the European Commission has set out his vision for a post-Brexit EU.
Jean-Claude Juncker said there should be different speeds of integration for those countries willing to cooperate in certain policy fields.
"Europe is more than power, goods and money. The internal market and the euro are not goals in themselves, they have to serve the individual and the community," he told MEPs.
"But there are governments that want to reduce the role of the European Union and the EU Commission towards the internal market management. I am strictly against it."
But some parliamentarians questioned whether this new policy paper would resonate with ordinary voters.
"I would challenge Jean-Claude Juncker to go out, not just here, but few kilometers away from here, in Brussels and try to go various neighborhoods of Brussels with his papers and see whether he is able to elicit enthusiasm by selling his papers to citizens I don't believe he stands a big chance of doing that," Green MEP Philippe Lamberts told euronews.
Juncker hopes that his plan will help unite the 27 EU governments once Britain quits the bloc.
But he is likely to face stiff opposition from conservative governments in central and eastern Europe, especially Poland which is worried that a multi-speed EU could leave it on the sidelines of the big decisions.