EU's Juncker warns of Brexit risk to Good Friday Agreement
Comments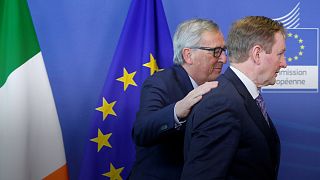 European Commission chief Jean-Claude Juncker has warned how Brexit could threaten peace in Northern Ireland after a meeting with Irish PM Enda Kenny.
"We don't want to have hard borders between Northern Ireland and the Republic. We want to have the Good Friday Agreement not to be put under risk and we want land borders be as open as possible. Because the Irish challenges in this very contexts are not only Irish challenges, they are European challenges," Juncker said during a joint press conference in Brussels with Kenny.
But the top legal advisers at the Northern Ireland assembly in Stormont have dismissed those claims.
The British government wants to leave the EU's customs union, which could the Irish economy and the important cross border trade.
The Irish Examiner reported last week that Dublin has started to review possible locations for border checkpoints in the case of a hard Brexit – a situation Kenny is keen to avoid.
"We don't want to see the Good Friday agreement damaged in any way that's the real priority for us given that Europe supported the peace process very strongly," he told reporters.
Over the past two decades, an EU programme has given more than two billion euros in funds to try and maintain social cohesion between the Protestant and Catholic communities in Northern Ireland.
It is as yet unclear what would happen to those funds when the UK quits the EU.
The conflict in Northern Ireland, which involved both unionist and republican paramilitaries, and British troops, saw thousands of people killed.
The Good Friday Agreement is the name of the peace deal signed by the then British PM Tony Blair in 1998, seen here with Bertie Ahern, who was Irish premier at the time.