Anti free-trade protests ahead of CETA vote
Comments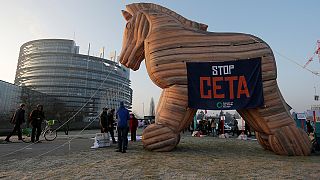 Hundreds of anti-free trade protesters took to the streets of Strasbourg on Wednesday as MEPs voted to back an EU-Canada free trade deal.
Protesters attempted to disrupt the vote, with about 700 people marching outside parliament to voice their opposition.
The activists tried to enter the European Parliament building but were prevented from doing so by police.
"Really it has nothing to do with trade. It has much more to with human rights democracy and environmental rights. And you know it going to impact on small and local businesses, on health on education," said one Irish protester.
"There is really widespread discontent about this agreement which is not going to bring any benefit to ordinary people pr the environment and only benefit really only multi-national corporation," said a German demonstrator.
MEPs approved the pact with 408 votes in favour, 254 against and 33 abstentions.