Leaders of Germany, Poland hold talks on EU's future
Comments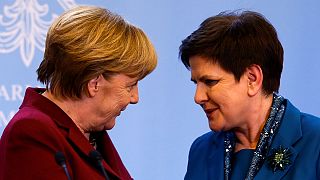 German Chancellor Angela Merkel and Polish Prime Minister Beata Szydlo held talks on Tuesday with a view to deepening ties between both countries.
But the two leaders also brought up issues of contention in what was Merkel's first visit to Poland since it's new government took office in November 2015.
Poland strongly opposes a gas pipeline that Russia is planning to build to Germany that would bypass Poland and Ukraine.
And the German chancellor also raised a European Commission investigation into rule-of-law violations by Szydlo's government.
The European Commission has sent Poland a letter with recommendations for addressing the alleged deficiencies.
Merkel also met with the country's president to discuss how Europe's ties with the United States under the new administration.
Merkel is also trying to thrash out a new way forward for the European Union., which faces key challenges such as Brexit, Russia and President Donald Trump.