EU pledges cash and help to stem migrants from Libyan coast
Comments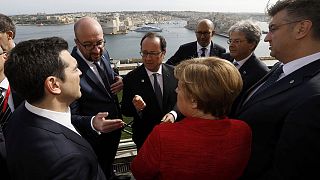 Fearing a new wave of migrants this Spring, EU leaders – meeting in Malta – have backed new measures to stem the flow of people from the Libyan coast.
They are placing a bet on Libya's fragile government to help, pledging to offer 200 million euros and help to beef up border controls.
"The Libyan authorities are asking for assistance in monitoring their borders, not only maritime borders, but also land borders," Maltese Prime Minister Joseph Muscat told reporters.
"They are asking for assistance in managing the camps where refugees, potential refugees and migrants are kept."
But aid groups accuse the EU of abandoning humanitarian values and misrepresenting conditions in Libya.
"Libya is not a safe place and blocking people in the country or returning them to Libya makes a mockery of the EU's so-called fundamental values of human dignity and rule of law," said Medecins Sans Frontieres.
A controversial EU deal with Turkey a year ago led to a virtual halt to a migrant route to Germany via Greece, along which a million asylum seekers travelled in 2015.
But the chaos in Libya has banished any hope of a quick fix to the migration flows coming from Africa.
Meanwhile, Donald Trump's shadow hung over the Malta meeting – with his controversial policies on the minds of many leaders.
It put the EU's health in the spotlight.
"Transatlantic cooperation remains and absolute priority because it has until now been a key pillar of the free world. At the same time we know that today we have no other option than to regain confidence in our own strength," said Donald Tusk, European Council President.
The Maltese president said there had been no sense of anti-Americanism at the summit. But added that the EU would not stay silent if principles were "trampled on."