EU leaders respond to UK PM's Brexit speech
Comments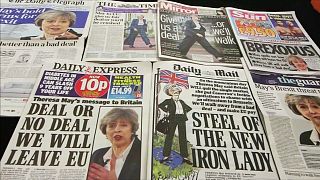 Although one British newspaper dubbed her the "new iron lady", European Union leaders have reacted cautiously to UK Prime Minister Theresa May's Brexit speech.
After Tuesday's address, in which May confirmed that Britain would leave the EU single market but seek a free trade deal with member states, European Commission President Jean-Claude Juncker and Maltese Prime Minister Joseph Muscat – whose government holds the rotating presidency of the EU – both made responses in Strasbourg.
DAILYMAIL: Steel of the new Iron Lady #tomorrowspaperstodaypic.twitter.com/wlD6oFT1FJ

— Neil Henderson (@hendopolis) January 17, 2017
Muscat said: "Reading the British press this morning, I did not see in the Prime Minister's words when I heard her first hand, the sort of declaration of war that some media are depicting it was. I saw this as a statement of clarity."
However, Juncker was not so optimistic, although he assured Mrs May that EU negotiators were not in a hostile mood – which May had said "would not be the act of a friend".
He told reporters: "Our basic position is the same: we will start to negotiate after the triggering of article 50, and then we will see.
"It will be a very, very, very difficult negotiation, because Britain has to be considered as a third country," he continued.
MIRROR: Give us a deal…or we'll walk #tomorrowspaperstodaypic.twitter.com/QI6Tx8Q50e

— Neil Henderson (@hendopolis) January 17, 2017
Mrs May has said she would trigger Article 50 by March, formally beginning the removal of Britain from the bloc.
However, most commentators envisage years of negotiation before Britain will have fully disentangled itself from the EU.