Theresa May outlines UK Brexit plans in long-awaited speech
Comments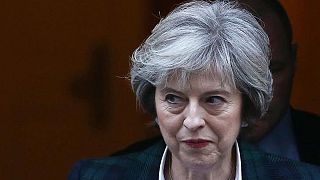 British Prime Minister Theresa May has at last delivered a speech outlining the UK government's plans for Brexit.
After months of speculation, and a battle in the country's supreme court, Mrs May has said that the final deal for Britain's exit from the European Union will be put to a vote in parliament.
However, the leader put an end to speculation that London would seek a 'soft Brexit' by announcing that the UK will leave the EU's single market.
As the it prepares to disentangle itself from the EU, Mrs May said the country would try to avoid a "disruptive cliff edge" and that she envisaged a mutually beneficial deal for all involved.
Speaking about immigration, which was arguably the currency of the Brexit debate, Mrs May said: "Britain is an open and tolerant country. We will always want immigration, especially high-skilled immigration, we will always want immigration from Europe. And we will always welcome individual migrants as friends."
However, she said that the British public had spoken, and that "Brexit must mean control of the number of people who come to Britain from Europe."
"That is what we will deliver," she continued.
"We want to guarantee the rights of EU citizens who are already living in Britain and the rights of British nationals in other member states as early as we can."
However, Mrs May put to bed the notion that Britain could achieve a 'soft Brexit' by remaining in the EU single market – something which has been at the forefront of the Brexit debate.
Addressing Britain's trade relations with EU members, she said: "I want Britain to be able to negotiate its own trade agreements but I also want tariff free trade with Europe and cross border trade there to be as frictionless as possible."
"But I want to be clear. What I am proposing cannot mean membership of the single market."
She did say, however, that not managing to negotiate a deal with the EU would be preferable to concluding negotiations with a bad deal for Britain.
She warned leaders of the 27 other member states that trying to punish Britons for voting to leave "would not be the act of a friend."
"We will seek to avoid a disruptive cliff edge and we will do everything we can to phase in the new arrangements we require as Britain and the EU move towards our new partnership," she said.
"I know there are some voices calling for a punitive deal that punishes Britain and discourages other countries from taking the same path. That would be an act of calamitous self-harm for the countries of Europe and it would not be the act of a friend."
---