EU summit: Russia sanctions to stay, Dutch Ukraine deal
Comments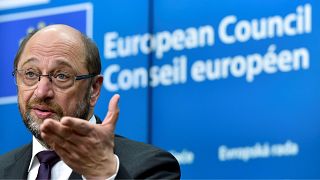 EU leaders have agreed to extend sanctions against Russia over Ukraine for a further six months.
The decision, at a summit in Brussels, was expected and the formal process to extend the sanctions on defence, energy and financial sectors will take place early next week.
Sanctions were imposed after Russia annexed Crimea in 2014 and they were stepped up amid a separatist rebellion in Ukraine's industrial east.
The conflict is still not resolved and has killed nearly 10,000 people to date.
At #EUCO EU sanctions on Russia to be extended for six months. EU remains united on unacceptability of Russia's actions in Ukraine.

— Angus Lapsley (@AngusLapsleyFCO) 15 December 2016
EU leaders also agreed to Dutch demands for additional guarantees that a landmark deal, establishing closer ties with Ukraine, will not lead to Kyiv getting membership of the bloc.
The Netherlands is the only EU country that has not ratified the so-called association agreement, which fosters closer political ties and aims to free up trade between Ukraine and the bloc, after Dutch voters rejected it in a referendum last April.
Dutch Prime Minister Mark Rutte will now take it to his parliament for approval, which would overwrite the referendum result.
The unfolding situation in Aleppo in Syria has also been on the agenda of the Brussels summit.
"NATO allies strongly support all the efforts of the UN to make this happen, both the ceasefire, delivery of humanitarian aid and of course the evacuation of civilians," commented NATO Secretary-General Jens Stoltenberg.
"This will be the first step to a more lasting sustainable political solution to the conflict in Syria."
Despite threats in October by some EU leaders, the bloc has shied away from bringing in new sanctions against Russia over the Syria conflict.
On Monday, NATO envoys will hold a formal meeting with Russia. Moscow has agreed to a "frank discussion" about the east-west standoff, which is seen as a threat to Europe's stability.
Dutch Ukraine deal, sanctions rollover and Syria pressure all in one summit – EU bashing Russia before Trump changes his mind?

— Danny Kemp (@dannyctkemp) 15 December 2016