EU set to open new '320m' HQ as governments tighten belts
Comments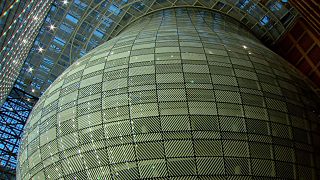 The EU district of Brussels is, like the weather, grey and dreary.
So what better to spruce it up than a colourful new building?
Except this new meeting place for EU leaders comes at a price; a whopping 320 million euros.
Commissioned in 2004, it's been dubbed the Space Egg, owing to its bizarre shape.
It's here where from next year leaders will discuss the big issues such as the refugee crisis, Syria and youth unemployment.
EU officials argue this building is needed because the current one simply cannot cope with the number of officials present at the bloc's summits.
But it comes at time when cash-strapped EU member states slashing spending and Brussels is supposed to be cutting waste.