Brexit 'shuttle diplomacy' underway for EU leaders
Comments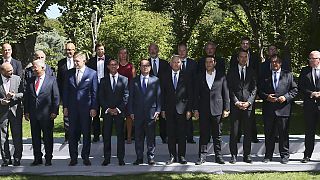 Brexit means Brexit, according to Britain's prime minister Theresa May.
Now French president Francois Hollande and other EU leaders need to figure out what Brexit will mean for them.
Centre-left heads of state and government met near Paris earlier, although Italian Prime Minister Matteo Renzi was absent as he dealt with the emergency response to the earthquake in central Italy.
Meanwhile, the German chancellor is on a week-long tour of European capitals ahead of a special Brexit summit next month.
Speaking in Estonia, Angela Merkel said: "We have to think what this means for the rest of the 27 members. Do we have enough strength to go on the road of success for a better Europe? I think that we can overcome the departure of Great Britain, but we have to work hard for it."
The German chancellor will have held talks with 15 leaders by the end of the week.
All EU governments – except Britain – meet in Bratislava on September 16th.