Renzi, Hollande and Merkel discuss security and the migrant crisis
Comments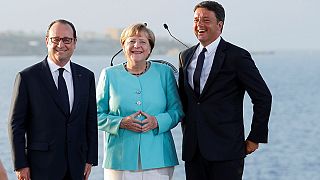 The leaders of Italy, France and Germany have been meeting on board the Italian aircraft carrier 'Garibaldi.'
Many thought that after Brexit Europe was over. Not so.

Italy's Prime Minister
The trio planned to discuss several topics such as the migrant crisis as well as securing Europe's internal and external borders following a string of Islamist militant attacks.
Italian Prime Minister Matteo Renzi addressed reporters at a news conference.
"Many thought that after Brexit Europe was over. Not so. We respect the choice of the British people, but we want to write a page for the future. And that's why internal security, external security, the fight for a common Defense, cooperation between intelligence services, better integration of national Defense industries, the project for an European Community for security are our top priorities," said Renzy.
Earlier the three leaders laid a wreath on the tomb of the Italian intellectual Altiero Spinelli, who is seen as one of the fathers of European unity.
French President Francois Hollande called for strengthening community education programmes such as Erasmus, which marks its thirtieth anniversary next year.
He said such student schemes for Europeans help young people learn to discover.