Tens of thousands march against Belgian austerity reforms in Brussels
Comments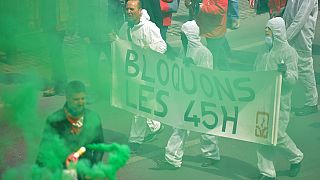 Tens of thousands of people took to the streets of Brussels on Tuesday, opposed to the free market policies of the centre-right government.
The austerity reforms will see cuts to public services, a real wage cut of 2% , enforced flexibility in the weekly hours worked and a reduction in pensions as well as a raising of the pension age.
"Today we have roughly a comfortable pension, but tomorrow are they going to do the same that they did to the Greek pensioners, that is cutting it by 20% and then another 20%?" said one protester.
Trade unions say the planned reforms cut into the foundations of Belgium's welfare state.
A small number of protesters clashed with police, throwing rocks. At least one policeman and several demonstrators were injured
More demonstrations and national strikes are planned in the coming months.