EU gives Spain, Portugal more time on deficits
Comments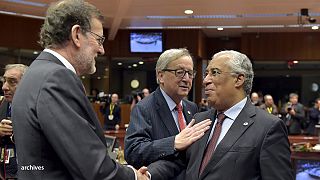 The European Commission has shied away from punishing Spain and Portugal over their excessive budget deficits.
The EU executive has the power to fine governments that consistently spend more than they receive in tax revenues.
Spain budget deficit stood at five percent of GDP last year; Madrid's initial target had been 4.2 percent.
Portugal's deficit was 4.4 percent, which is above the EU agreed limit of 3 percent.
Officials made do with a warning and the granting of more time to both countries to fix their finances.
"We also take into account, and i think nobody should blame us for that, the fact that these (Spain & Portugal) are two countries that have suffered the crisis with full force, which still have very extremely high levels of unemployment and which have made significant reform efforts," said Pierre Moscovici, the EU's economy commissioner.
EU spending rules say a budget
deficit cannot exceed 3 percent of GDP.
But in the two decades since the European single currency was introduced, such a sanction has never been slapped on an EU member state.
The rules were supposedly toughened in 2011 to hardwire fiscal discipline into EU decision-making.
That move came after calls from Germany in a bid to avoid a repeat of the eurozone debt crisis.
But critics say the Commission has put politics before economics, as well as the EU's own fiscal rule book.