Eurozone finance ministers mull Greek debt relief
Comments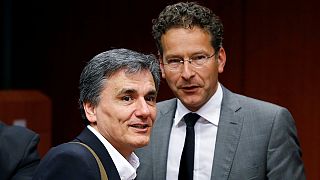 Eurozone officials are discussing whether to pay another chunk of aid to Greece amid talk about granting the country some debt relief.
The Greek parliament passed new austerity measures on Sunday to cut pensions and hike taxes.
But there is stiff opposition from Germany to giving Athens any leeway on its debts.
This is the first review for the third bailout that Greece signed last year with its international creditors.
A sum 5.4 billion euros is needed to repay the European Central Bank and the IMF in July.
Cash is also needed to pay civil servant salaries.
But the latest reforms have sparked anger on the streets – Prime Minister Alexis Tspiras had promised to end the age of austerity during his election campaign in September last year.